Corrugated boxes are easy to recognize. Corrugated is made of paper and has an arched layer, called "fluting," between smooth sheets, called "liner." The corrugated most commonly used to make boxes has one layer of fluting between two smooth sheets. But there are many types of corrugated available, each with different flute sizes and thicknesses.

Corrugated is an extremely durable, versatile, economical and lightweight material used for custom-manufactured shipping containers, packaging and point-of-purchase displays, in addition to numerous non-traditional applications ranging from pallets to children's toys to furniture.
Corrugated. It's not just a brown box.
Corrugated is a complete, high-performance material design, manufacturing and delivery system. Corrugated is the preferred packaging material because it is:
Durable

Versatile

Lightweight

Sustainable

Environmentally Responsible
Made from a Renewable Resource

Customizable

Protective

Graphically Appealing

Cost-Effective
Graphically Appealing.
Corrugated containers and packaging are mobile billboards that create product image wherever they travel. Corrugated displays are eye-catching modular units that can be set up quickly and recycled at the end of a promotion.
Corrugated is a very flexible medium that accommodates a wide range of printing options to support the end-use requirement:
Offset lithography and rotogravure (high-volume).

Flexography or letterpress (shorter runs)

Silk screening (displays)

Corrugated can be direct printed in plant or manufactured with high-end process color graphics.

Environmentally Responsible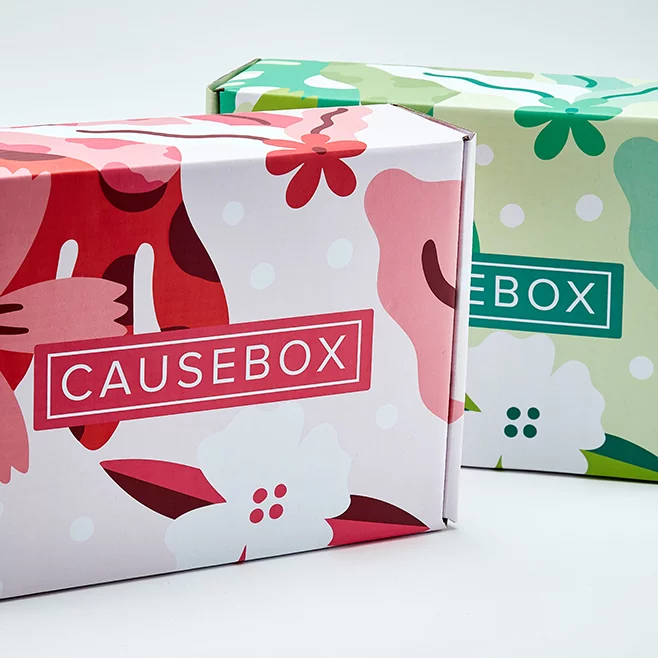 Box Structure
Corrugated fiberboard, or combined board, has two main components: the linerboard and the medium. Both are made of a special kind of heavy paper called containerboard. Linerboard is the flat facing that adheres to the medium. The medium is the wavy, fluted paper in between the liners..
The following illustrations demonstrate four types of combined board.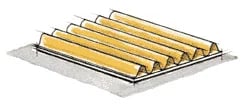 Single Face
One medium is glued to one flat sheet of linerboard.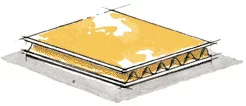 Single Wall
The medium is between two sheets of linerboard. Also known as Double Face.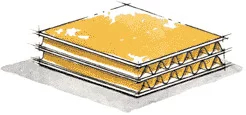 Double Wall
Three sheets of linerboard with two mediums in between.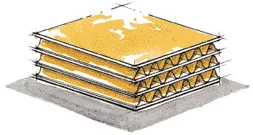 Triple Wall
Four sheets of linerboard with three mediums in between.
Flutes
Architects have known for thousands of years that an arch with the proper curve is the strongest way to span a given space. The inventors of corrugated fiberboard applied this same principle to paperwhen they put arches in the corrugated medium. These arches are known as flutes and when anchored to the linerboard with a starch-based adhesive, they resist bending and pressure from all directions.
When a piece of combined board is placed on its end, the arches form rigid columns, capable of supporting a great deal of weight. When pressure is applied to the side of the board, the space in between the flutes acts as a cushion to protect the container's contents. The flutes also serve as an insulator, providing some product protection from sudden temperature changes. At the same time, the vertical linerboard provides more strength and protects the flutes from damage.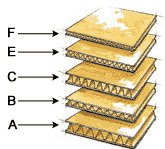 Flutes come in several standard shapes or flute profiles (A, B, C, E, F, etc.). A-flute was the first to be developed and is the largest common flute profile. B-flute was next and is much smaller. C-flute followed and is between A and B in size. E-flute is smaller than B and F-flute is smaller yet.
In addition to these five most common profiles, new flute profiles, both larger and smaller than those listed here, are being created for more specialized boards. Generally, larger flute profiles deliver greater vertical compression strength and cushioning. Smaller flute profiles provide enhanced structural and graphics capabilities for primary (retail) packaging.
Different flute profiles can be combined in one piece of combined board. For instance, in a triple wall board, one layer of medium might be A-flute while the other two layers may be C-flute. Mixing flute profiles in this way allows designers to manipulate the compression strength, cushioning strength and total thickness of the combined board.
Let Us Help You Build the Perfect Box.
We offer packaging design and engineering services, sample packaging, and bulk orders starting at 1,000 boxes. Contact us today for a consultation.