3 Affordable Holiday Packaging Design Tips
3 Affordable Holiday Packaging Design Tips
From joy and cheer to stress and anxiety, the holiday season never fails to trigger intense emotions. And for solid end-of-the-year success, it's critical for brands to tap into them.
The holidays can bring out the very best of people. But sometimes, the stress of it all can bring out the worst. It's essential to do all you can to make sure your brand stands out by bringing joy into people's lives with your holiday packaging designs.
It's a special time of year, and you should leverage the festivity to make a more personal connection with your customers. After all, most people are conditioned to have at least some brand expectations during the holiday season. If you hit the mark, you can expect customers to return and choose your brand over the competition.
To do this, you don't even have to overhaul your retail packaging design, which can be a serious undertaking. For some companies, a complete design makeover might be ideal. But a little can go a long way. Let's look at a few holiday packaging design tips that will spice up your retail packaging with a bit of holiday spirit.

Holiday Packaging Tape & Custom Stickers
A complete holiday redesign might not be in the budget. An affordable way to add some holiday cheer to your packaging is with tape or stickers.
For beautifully designed luxury gift boxes, it might be better for your brand to add a custom sticker that fits with your design elements. It lets your customers know you are thinking of them during the holidays but won't get in the way of your elegant branding. Effective holiday designs can include something as simple as a snowman sticker that says 'Seasons Greetings!' or 'Happy Holidays.'
For those companies with a more practical approach to design—like corrugated carton subscription boxes—you can seal your boxes with holiday-themed packaging tape. The options for width, colors, and customization are nearly endless. Talk to your commercial printing and packaging partner to see what they have available. However, if you don't have a drop shipping model and receive your packaging for distribution, adding a simple element like themed packing tape on your own is both cost-effective and easy.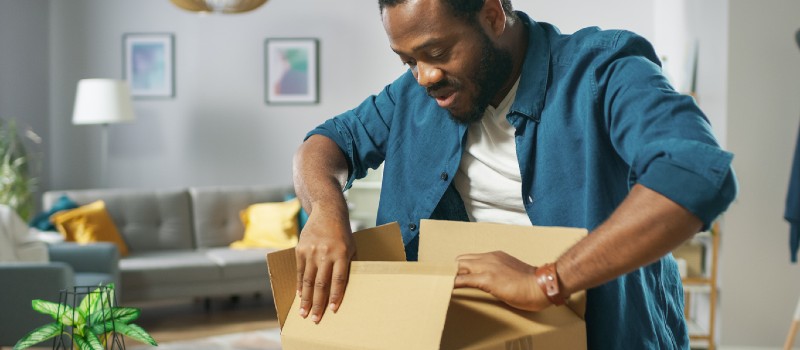 Give them a Surprise Message
Unexpected surprises often have a more significant impact. An affordable way to create a resonant emotional connection with your customers is to add a special holiday message on the inside of the box. You can do this by simply dropping a note inside. If you are not shipping products by the thousands, you can go the extra mile by handwriting each note. However, if you do sell in high volume, try handwriting ten or twenty different holiday greeting messages to have printed in bulk and inserted at random. This way, if a customer buys more than one item, they are likely to get a different message inside each box. And if notes aren't your thing, you can also get creative with stickers.
You can use this tip any time of year. It helps create a more personal connection between your brand and your customers. And it's an extra pleasant surprise during the chaos of the holiday season, especially if you didn't change your exterior packaging. This sort of gesture lets your customers know that you are thinking of them.
Spice Up the Unboxing Experience
Many people consider the overall unboxing experience to be the most important element of product packaging. Adding a note with holiday cheer, as mentioned above, is one way for you to spice up your customers' unboxing experience. Another affordable and easy approach is to add holiday tissue paper inside your packaging.
You can use customized tissue in many ways—most easily as packing filler. But you can also utilize it as wrapping paper and actually wrap the item inside the package, so it feels more like a gift. You can also use a large square of tissue to print a holiday version of your brand logo or any unique design or message you wish.
For those with simple corrugated box designs, using themed packing tape on the outside with matching tissue on the inside can really step up your box's holiday game. It's cost-friendly, easy, and doesn't take a lot of design effort or proofing.


Of course, you could always go big and do a limited run of a complete holiday season redesign. But to pull that off, you need to plan and design well ahead of time (even in the spring or summer months). However, you can create an emotional connection and achieve organic marketing success by creatively implementing these simple and affordable holiday packaging design tips.