Packaging Design for E-Commerce and Amazon Products
You stare at rows of face cream, wondering which one to buy. Each product promises to give you softer skin, fewer wrinkles, and make you look 20 years younger. Which one do you buy?
In a retail environment, the answer is easy. You reach for whichever stands out most—the product that appeals to your senses and promotes a perceived value that resonates with you.
Product packaging is important. After all, you only have one chance to make a first impression. But what if your consumer sees your product for the first time only after they've purchased it online?
For products to stand out in an e-commerce world, you've got to go the extra mile. You may be worried about costs, but don't be—creative and well-designed packaging will pay for itself.
When buying a product from Amazon or another e-commerce site, the sensory experience changes. Consumers examine product descriptions, images, and reviews before clicking the Buy Now button. Some retailers see this phenomenon as an excuse for using lower-end packaging. But in reality, online shopping makes a case for standout, high-quality packaging.
Packaging decisions matter as much online as they do in brick-and-mortar stores. You want to make a good impression, from the moment the product image hits the screen until it arrives and is unboxed. Your packaging must deliver an unparalleled experience because when the unboxing process goes above and beyond, customers tend to share their positive experiences in good reviews.
Amazon reviews can make or break a product—most consumers will not buy products with one-star ratings. Therefore, damaged products in flimsy packaging can damage your Amazon ranking. But the right packaging will improve your ranking, build brand loyalty, and drive future sales.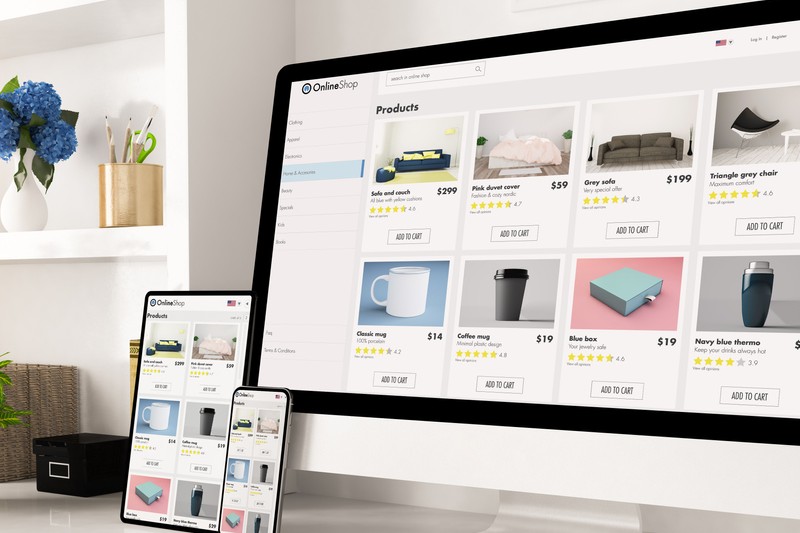 What Issues Must e-Commerce Packaging Solve?
Packaging plays a major role in online product selection—after all, unlike brick-and-mortar products, online product packaging must make a statement and protect contents over a potentially rough shipping journey.
There are two types of packaging on the market: Utility packaging, the brown corrugated cardboard box that houses and protects contents during shipping, and branded packaging. Both call for careful consideration in the e-commerce world.
The right e-Commerce packaging is:
Sturdy. A sturdy, well-designed package lowers return rates due to shipping damages. With an industry return of 30% and e-commerce platforms dinging companies for returns, your packaging must be tough enough for the trip.

Lighter and Smaller. Opt for a well-designed package that is lighter and smaller than what you might otherwise use to reduce shipping costs.

Promotes Brand Identification. Even online, brand recognition is king. You must take the time to design a beautiful package that promotes your brand.

Delivers a Positive Customer Experience. Select packaging that provides a positive experience from the moment consumers open the shipping box until the moment they see your product.
Choosing an Exterior Box
The first box choice in the e-commerce world is the shipping box. There are several choices available.
The Regular Slotted Corrugated Box (RSCBs) is the standard. These boxes hold up well when shipping large and heavyweight items, but require manual taping to assemble.

Roll End Tuck Top Corrugated Boxes unfold easily during assembly. They work well for clothes, electronics, health and beauty products, small hardware, and gifts.

Easy-Fold Mailers (EFMs) have an eye-catching reduced profile and pair well with flat or narrow products.

Corrugated Mailers offer a lot of styles and work great for creating at-home unboxing experiences.
Though most shipping boxes are brown, you can opt for white corrugated boxes. White is more eye-catching, but the boxes cost more and readily show dirt. However, you can go even further, providing a premium experience with colored boxes printed with your logo and colorful graphics.
When you pick packaging that meets ISTA, ASTM, or EN drop testing standards, the boxes will sustain the rigors of shipping. These tests simulate the drops and rotational impacts a box may experience during shipping and handling. They show how the package's corners, edges, and surfaces fare after a drop. Drop testing ensures boxes protect the products in transport.
It's also important to consider how the weather might impact your packaging. Boxes with all-weather coating protect contents from the elements during shipping. Varnish on the inside gives boxes a pristine inner look. Film lamination also makes a box more durable and weather resistant.
A good packaging partner will guide you to the right shipping box dimensions, structure, and design for your product, and they will send box samples so you can double-check their look, feel, and durability before making a commitment.
Fill the Void
To keep products safe, it's also important to fill the void inside so your items don't break.
Consumers appreciate environmentally safe alternatives to Styrofoam packing peanuts. Fast-growing materials such as bamboo, wheat straw, and mushroom roots work well as filler.
You can also put cardboard or foam inserts inside the box to protect your product. Inserts deliver a high-end unboxing experience and prevent products from sliding around during shipping. Putting your logo and product messaging on inserts also promotes your brand, helping to increase customer loyalty and sales.
Filling the void can be as beautiful a process as it is functional. Insert colorful tissue paper around the product, add a personalized thank you note, or include a coupon, discount offer, or gift sample to enhance the unboxing experience.
Right-size the Packaging
It's important to right-size internal brand packaging and utility packaging in order to reduce weight and shipping costs. Remove the hanging tabs needed for retail store packaging and reduce packaging size and weight. You may want the packaging to be smaller for dropshipping.
The most cost-effective packaging, however, meets the needs of both e-commerce and brick-and-mortar stores. It's less expensive to print 10,000 of one box versus 5,000 boxes for retail stores and 5,000 for online orders. You will save money because you'll have more volume overall
The right packaging partner will help you minimize dimensions and weight while making sure to protect contents by shaving off material costs and shipping fees. They can even design a rigid box that acts as both a shipping box and packaging.
Your packaging is an investment in your business, whether you sell online or in a store. It protects your products until the customer opens it, making sure they can create memories they'll want to describe in a positive review.