How Environmentally Friendly Organizations Can Go Greener with Eco-Friendly Packaging
How Environmentally Friendly Organizations Can Go Greener with Eco-Friendly Packaging
Last year, Forbes reported that globally people buy one million plastic bottles per minute and over 90% of those bottles are not recycled.
But that is starting to change.
People are becoming increasingly aware of the detrimental impact of plastic on the environment, and this consciousness is carrying over into the packaging industry.
Consumers who are concerned about the environment want to see the companies they love change how they make and package their wares. So it makes sense that businesses want to select eco-friendly packaging designs that reflect their consumers' values.
Sounds great in theory. But how can you meet consumer needs and stay cost efficient?
Today, there are many options for eco-friendly packaging that won't break your budget. We will explain how print packaging can reduce waste, promote recycling and reuse, and ultimately meet your buyers' expectations when it comes to environmentally sound packaging.
Recycled Sourcing vs. Recyclable Packaging
There is a difference between using recycled stock to produce your packaging material and creating packaging consumers can recycle when they're done with it.
If you want your packaging to be recyclable, you'll want to use paperboard or corrugated paper in your design. Solid Bleached Sulphate (SBS) is one stock that can be recycled. SBS is made from 100% unused fibers that have been bleached white, as opposed to the coated news and Kraft stocks which are a white overlay on top of grey or brown recycled fibers. SBS stock delivers a "whiter" white and is stiffer than recycled stocks. It also has a smoother print surface that takes fine detail and gloss coatings better.
However, you'll want to avoid applications on the paperboard that will send it into the trash rather than the recycling bin. Don't use lamination, plastic film laminate, and UV coatings so the paperboard can be recycled by the consumer.
Print packaging that's made from recycled materials is a whole other level. The American standard for corrugated substrate is 35% recycled material, but if you want something that's truly 100% recycled, you'll have to opt for recycled paper that's made from CCN, which is a clay-coated news back made from recycled newspaper or gray stock paper.
When you use a recycled or partially recycled material as your substrate, don't be surprised if you need larger tucks or tabs or a thicker stock so that it holds up well. On the upside, you'll probably end up paying less for either a recycled or recyclable print package.
Forest Stewardship Council Certified Sourcing
Forest Stewardship Council (FSC) certification is the globally recognized gold seal of environmentally-friendly sourcing and FSC-certified paper products are booming. FSC's certification process ensures products are sourced from forests that are environmentally, socially, and economically responsibly managed. A product can qualify for an FSC stamp of approval if every link in the production chain is certified, "from the FSC-certified forest, to a paper manufacturer, merchant, and finally to a printer that has FSC Chain-of-Custody certification." Today, FSC paper is widely available in US markets.
Recyclable Polyethylene Terephthalate (RPET) Plastic and Trapped Blister Inserts
Paper packaging is hands down greener than plastic. But if you can't use paper or cardboard and must use plastic packaging, you can still shift your products green quotient up a bit by opting for recyclable polyethylene terephthalate (RPET) plastic. RPET is petroleum based, and it can be recycled by the consumer through most U.S. recycling programs. It's available in roll stock and sheets for thermoform packaging or for print packaging.
Another small adjustment you can make with plastics is to use a trapped blister rather than a full blister insert. Not only is it more environmentally friendly, it's also a little cheaper. If you aren't sure about different packaging printing box types and their environmental impact, you can contact an eco-friendly packaging company for the right answers.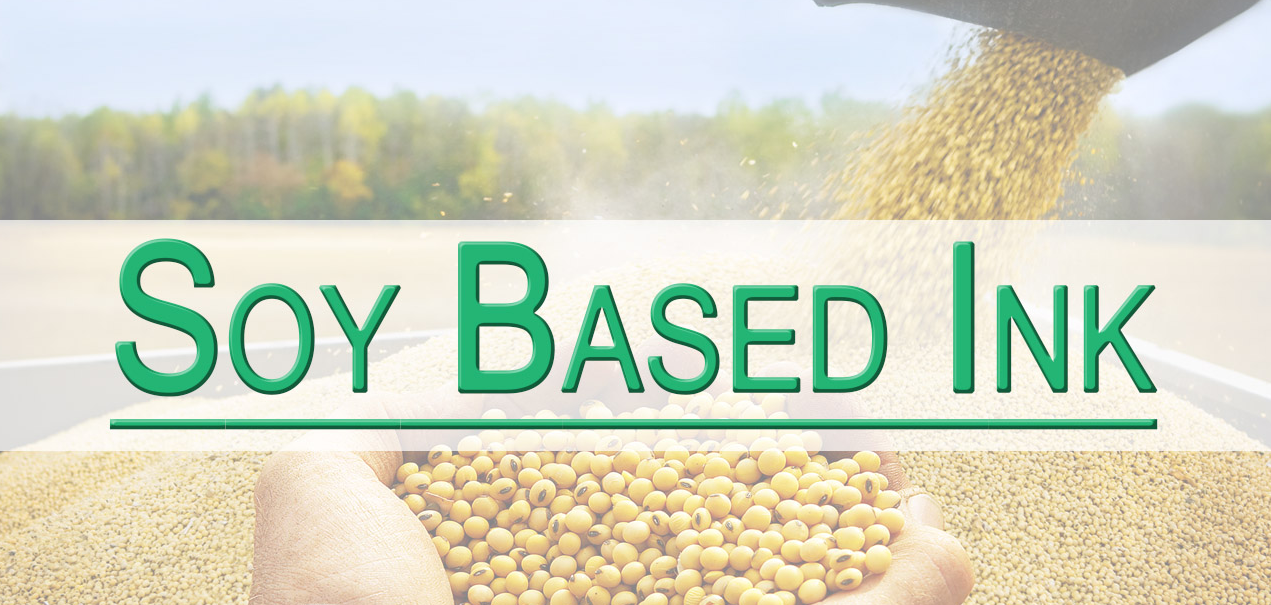 Environmentally Friendly Ink and Coatings for Eco-Friendly Packaging
When you're selecting your packaging printer, verify that they use green printing techniques.
Environmentally friendly inks and coatings, such as soy-based inks and water-based coatings, are ideal if you want an eco-conscious design. Soy-based ink is made from soybeans and makes paper easier to recycle than traditional petroleum-based ink. Water-based coatings used on print packaging dry quickly, can provide a gloss or matte appearance that keeps your package looking fresh on the shelf. Water-based coatings are more environmentally friendly than UV coatings or other varnishes.
Graphic Designs with Green Messaging
If you're using green substrates and really working to provide either a recyclable or recycled-sourced package, take credit for your efforts. Advertise your green status by incorporating it into the graphics and using design concepts that resonate with consumers who care about green packaging. Cardboard brown and grass green are popular color choices for conveying eco-friendly packaging and products, and adding the standard recyclable symbol is common.
If you're looking to increase your environmental visibility through your print packaging design, substrates are important. A structural engineer can help you optimize your finishes and design while helping you save on costs, and a competent graphic design team can help you with packaging that reflects an eco-friendly message.
As environmentally friendly products continue to gain momentum, consumers will expect brands to embrace eco-friendly packaging. By taking these steps, your company can get a head start and truly make a difference.