The Remembrance Necklace: Bringing a Beautiful Product to Life
Heavenly Halo: Bringing a Beautiful Product to Life
When you've created a beautiful idea, all it takes is the right packaging company to bring it to life.
The Heavenly Halo Remembrance Necklace is one of those beautiful ideas. One woman saw a void that needed to be filled and a whole lot of people who needed love during a hard time, and she found a way to bring it to them. But the logistics of bringing a product to market are complicated. She needed help in bringing her dream to a reality. Luckily, she found a helping hand to support her every step of the way.
What Is the Heavenly Halo Remembrance Necklace?
Becky Lumert is a pediatric RN who has built her career around babies. She has witnessed the miracle of life time and time again. Unfortunately, she has also become familiar with the pain that accompanies loss when a life is taken before ever given the chance.
There is no formula for grieving; everyone does it in their own way. As a friend or relative, it is nearly impossible to know exactly what to say or do to soothe the aching heart of a mother who has just lost her child. Often, the prospective mother isn't even sure how she is supposed to feel. There is no protocol to follow for helping someone you love navigate their loss.
On her own journey to motherhood, Becky experienced this loss twice. What she went through mirrors the same sensations of isolation and shame that many women feel every day as they are grieving a miscarriage, but seldom feel it is their right to talk about. In creating the Remembrance Necklace, Becky hoped to provide comfort for those mothers at a time where comfort seems impossible.
Becky's experience taught her that even those with the best of intentions don't know how to respond to a loved one's miscarriage. Flowers received would wilt and give her nothing to remember them by. The Remembrance Necklace and memorial box validates the feeling of loss for women who feel they aren't allowed to feel so deeply for a child they never had the chance to hold.
Becky's heart was drawn to bringing the memorial box to life, and with the help of her husband, she did. She sold beautiful handcrafted wooden boxes online, only to realize that the demand was higher than she could have imagined. It took her a year to develop the final product, but with the help of the right printing and packaging company, she has been able to put hundreds of her Remembrance Necklaces into the hands of women grieving an unfathomable loss.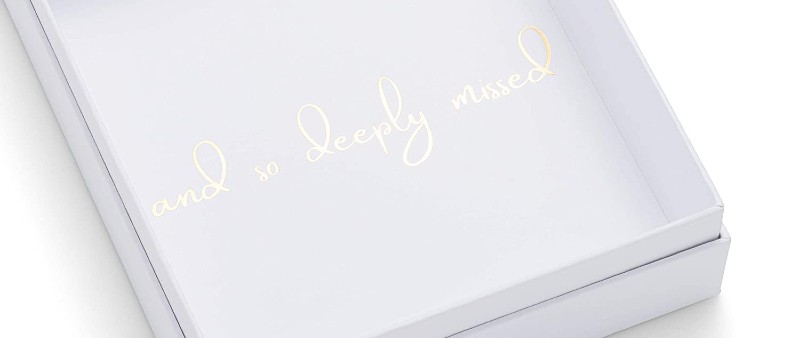 What Was the Process Like for Creating the Box?
The creation of the Remembrance Necklace and its memorial box got off to a rocky start. Trying to deal directly with Chinese factories proved to be problematic for Becky. The language barrier was an issue trumped only by her knowledge barrier. Building her dream with no industry knowledge meant that she couldn't answer questions about formats, sizing, and other manufacturing details. She didn't know what she didn't know, especially when it came to the esoteric language used by the packaging manufacturers.
Most startups will face similar issues. Overseas suppliers aren't in the position to teach customers about different options; they only want your order. This is problematic for business owners with little to no industry knowledge and headache-inducing for those just trying to get an idea of what they need to package their product.
Becky created the package design with a box designer, who then gave her Scott's contact information at Global Printing and Packaging. That is when her experience took a 180-degree shift.
The right packaging company will be able to work with you to get exactly what you need. In Becky's case, she wanted a high-quality weighted box that would run at a giftable price point. Global Printing and Packaging (GPP) was able to show her all of her options and help her build the perfect box.
GPP's end-to-end service meant she didn't have to worry about how her order would be delivered and unloaded into her home. GPP took care of every detail for her – and at a lower price than she would have been able to secure on her own.
What is especially beneficial to startups is the care the right packaging company will show in ensuring they get the right product, even if that means making adjustments along the way. They should be able to get you a high-quality sample in a timely manner, so you can see and feel exactly what you're about to create. The process should be so seamless that you feel confident in their ability to deliver the right product every time, especially as your business grows and your orders get larger.
A Personalized Approach to Packaging Design
Every step of Becky's journey with Global Printing and Packaging was characterized by their personalized service. The right packaging company won't treat you like a P.O. number. They will help you understand what you are ordering while explaining to you why certain elements will or won't work with your design.
When Becky placed an order for 5 x 7 insert cards for her memorial boxes, it took no time at all for someone to let her know that they wouldn't be the right size and to offer her an adjustment. This care easily outdoes the companies who would simply ship her what she ordered. When her first order arrived, she was surprised to find ten extra boxes, carefully included in case anything was damaged during shipping.
This attention to the needs of their clients is what will ensure that you are working with the right packaging company. And for the record, not a single box in Becky's order arrived in less than perfect shape.
The right packaging company will go beyond the basics to ensure that your final product is everything you dreamed it would be. They won't simply sell you a box; they will work with you to create packaging as breathtaking as the gift you place inside it. You are building a business in the service of those who need you. Your printing and packaging company should be as passionate about you as you are about your product.